Before you press your digital camera's shutter button to photograph the perfect landscape, there are many things you need to firstly consider.
For example, take a look at the sky. Is it too dull? If the sky is too dull consider how your going to handle this problem. Maybe you can change the photos composition so very little of the sky is shown, or possibly leave it out altogether. Another suggestion could be to come back at a different time and day. Dawn or dusk are often considered the best times to photograph landscapes.
Also take a good look at your surroundings. Is there any rubbish in the foreground. This is something I forgot to check myself recently when photographing a lake. The timing was perfect. I woke at the crack of dawn when the sun was rising and reflecting beautifully in the waters edge. Exposure, aperture and focus settings on my digital camera was spot on. However, when I returned home and looked at the photo on my laptop I was horrified to find an empty chip packet floating in the water. One simple object ruined the whole photograph.
Other elements found within photographs that could distract the viewers eye are people and cars. It's always a good idea to wait until the scene is clear of moving objects. Check the sky as well for plane trails.
Have one last look over the landscape your going to photograph. This time look for background elements like roadways, electricity wires and parked cars. Sometimes the difference between a good or bad photograph is simply a matter of rotating yourself around to eliminate unwanted background objects.
Look through your cameras viewfinder and peruse the edges. You don't want an out of place tree branch sitting in the top corner of your photograph. Does the scene look simple or cluttered? For instance, often a photograph of one lonely tree can have a bigger impact than a whole forest.
Other tips for landscape photography:
Composition plays a major part in landscape photography. Just because your taking an image of a landscape, doesn't mean the digital photograph needs to be shot in landscape formation. Don't be afraid to experiment. For example sometimes taking an image of a landscape in portrait format can result in a nicer composition than one taken horizontally.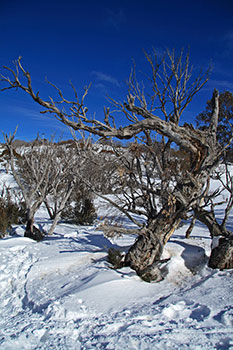 Snow Gum
Camera: Canon EOS 400D / Rebel XTi
Lens: Canon EF-S 17-85mm f/4-5.6 IS USM lens
Exposure: 0.002 sec (1/640)
Aperture: f/8
Focal Length: 17 mm
ISO Speed: 100
Exposure Program: Aperture priority
Why this snowy landscape works
Taking this landscape in portrait format was more effective in that it secluded one large snow gum, instead of showing a mountain of gums. It helped keep the photograph simpler than it would otherwise have been.
Think about the foreground. For example, its often a good idea to have an interesting object such as a tree branch or rock at the very front of the photograph to help balance the overall picture and help give the scene a feeling of depth.
Curiosity Rocks
Camera: Canon EOS 400D / Rebel XTi
Lens: Canon EF-S 17-85mm f/4-5.6 IS USM lens
Exposure: 1/60
Aperture: f/11
Focal Length: 24 mm
ISO Speed: 100
Exposure Program: Aperture priority
Why this country landscape works
Using the branch in the foreground helped to give a feeling of depth to this image. It also leads the viewers eye towards the rocks. I also set the camera on aperture priority ( f/11) to ensure it would keep the whole landscape in focus and not just the branch in the front right.
Ensure horizons are off center. You don't want to cut your photo in half with the horizon.
Make good use of line to help guide the viewers eye all the way through the photograph.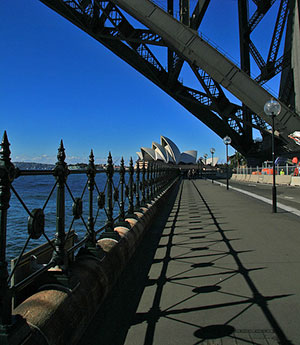 City Harbour Landscape
Camera: Canon EOS 400D / Rebel XTi
Lens: Canon EF-S 17-85mm f/4-5.6 IS USM lens
Exposure: 1/250
Aperture: f/11
Focal Length: 17 mm
ISO Speed: 100

Why this city landscape works
This is a good example of how line can help lead the viewers eye to the subject, which in this case is the Opera House. The fence and it's shadow on the pavement do this beautifully.
Think about your digital SLR camera aperture setting. Do you want all the landscape in focus or only part of?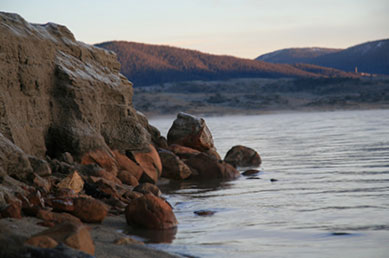 Lake Jindabyne
Camera: Canon EOS 400D / Rebel XTi
Lens: Canon EF-S 17-85mm f/4-5.6 IS USM lens
Exposure: 1/40
Aperture: f/5.6
Focal Length: 85 mm
ISO Speed: 100
Why this image works
Compared to all the other images shown on this page, this photograph was taken with a lower aperture of f/5.6. This is the reason why the foreground objects appear more focused than the mountains in the background. However, this is an unusual perspective for a landscape photograph. The rocks in the foreground is actually a small sandy drop about knee height. It was my intention to try something different by making it appear much larger.