ONLINE PHOTOGRAPHY COURSE - BLACK FRIDAY SALE ON NOW
Photography doesn't need to be over-complicated. This online photography course will teach you how to make the best use of your DSLR or Mirrorless camera. Learn at home, at your own pace!
BONUS: 42 photography reference cards / cheat sheets with every sign up to help get you off to a quick start while you are learning your camera.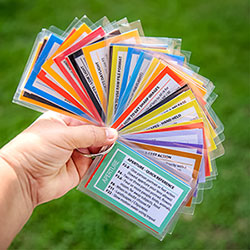 If you have:
Taken more bad shots than good
Hoped your images turn out rather than making them turn out
Purchased an expensive camera, yet still shoot in Auto
Grown weary of reading through mountains of text just to learn how to use your camera
Wondered why your images don't get that same vibrant color pop and clarity you see other photographers achieve
Wanted to know how to shoot with natural light at any time of the day

THEN THIS CLASS HAS BEEN CREATED FOR YOU!
Learning how to confidently use your DSLR or Mirrorless will help you get FULL VALUE out of this awesome camera you have already paid for!
Was $79, Today Only $37
Read what our students say about the course over at: Course Reviews

COURSE materials
BONUS MATERIALS WITH PURCHASE
40 Photography Cheat Sheets (mobile version)
40 Photography Cheat Sheets (print version)
E-book - Aperture Explained
E-book - Mastering Shutter Speed
E-book - Understanding ISO
E-book - Going Manual

18 LESSONS + ASSIGNMENTS + PRIVATE FACEBOOK GROUP
Lesson 1 - Understanding Aperture
Lesson 2 - Shutter Speed
Lesson 3 - ISO
Lesson 4 - Manual Mode
Lesson 5 - Exif Data
Lesson 6 - How To Shoot Sharp Images
Lesson 7 - File Formats
Lesson 8 - White Balance
Lesson 9 - Exposure Compensation
Lesson 10 - Understanding Histograms
Lesson 11 - Setting The Correct Metering Mode
Lesson 12 - Natural Light & Low Light
Lesson 13 - Custom Settings
Lesson 14 - Composition
Lesson 15 - Creative Fun
Lesson 16 - HDR
Lesson 17 - Post Production Basics
Lesson 18 - Business Of Photography
We guarantee that by taking this course, you'll learn how to shoot better photos and fully understand your camera!