The landscape photograph below was created with a technique known as high dynamic range, or HDR for short. HDR photo's are usually recognizable by their extreme exposure range. In other words, a greater range of shadows and highlights are visible to the eye when viewing the image than would otherwise have been seen. This often results in an image that leaves other photographers wondering why their photo's aren't as sharp and detailed.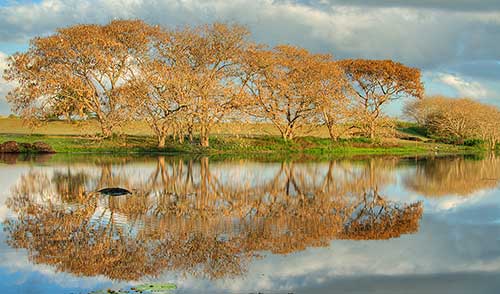 HDR Landscape
Digital SLR Camera: Canon EOS 400D / Rebel XTi
DSLR Lens: Canon EF-S 17-85mm f/4-5.6 IS USM
Exposure: 3 different exposures, due to the landscape photo being composed from 3 separate images. They were then combined into one HDR image using Photomatix software. See explanation below.
Aperture: f/11
Focal Length: 30 mm
ISO Speed: 100
Why this image works
Nature landscapes including water reflections, tree's, grass and cloudy skies often set the perfect scene for a HDR photo. Furthermore, clearness of the water reflections are due to the images being taken early in the morning before the sun came up. Having an overcast day also added to the effectiveness of the reflections, showing both the tree's and the clouds hovering above as though it was a mirror.
What exactly, is HDR?
A HDR photograph is an image that has been created from at least 3 separate shots, each with a different shutter speed (exposure). The 3 images are then blended together into one photograph, using a software program such as Photoshop or Photomatix.
How to create a HDR photo?

Firstly you need 3 separate images of the exact same landscape or object. To do this it's best to use a tripod to ensure you don't move the digital SLR camera between shots. It will also make aligning the images easier later on.The photo's need to be taken with different shutter speeds. You should aim for one under exposed image, one over exposed image and one somewhere between the two (too light, too dark, just right).If your camera offers a setting called bracketed exposures (check manual), then it's best to use this technology to create the 3 different exposures. If not, then you will need to manually change the shutter speeds between shots. Of course if you need to do this then it's best to photograph objects that don't move.
Once you have 3 unedited photographs, you also need to download a piece of software that will compile the images into one HDR photo. Adobe Photoshop CS2 and above can do this via the toolbar File | Automate | Merge to HDR.
I also recommend trying a program called Photomatix, that was specifically created for making HDR images. Photomatix is not only cheaper than Photoshop, but it also simplifies the process of HDR.
You can download a trial version of Photomatix that will be fully functional and never expires. However it does leave a watermark on your final image.
To combine the 3 images into one HDR photo using Photomatix, click along the top toolbar on: HDR | Generate and follow program instructions from there.
After generating a HDR photo, it is normal for it too look awful. The next step is to add some tone mapping to create a nicer image. Click on HDR | Tone Mapping, along the top toolbar and use the following settings to start with:
Luminosity 0
Strength 46
ColorSaturation 68
WhiteClip 0.25
BlackClip 0.00000
Smoothing High
Microcontrast High
360Image No
Then make adjustments from there to your liking. Some photographers like a more cartoony or plastic look to their final images. Personally, I like a more natural look to them. Once done, click on File | Save As, and save it either as a tiff or jpg.
Creating the HDR photo is only the first step to editing the image. Many photographers find their image seems dull after creating the HDR picture. Next, you need to open it in your photo editing program, for example Photoshop, and apply some adjustments like curves, shadow / highlight and sharpening.
Do some sceneries or objects create better HDR images and photo's than others?
In my personal experience, sceneries that contain a lot of contrast and texture works best. For example, country landscapes, mountains, tree's, cloudy skies, grass, rocks and buildings made from stone. I've also found shiny objects like cars and motorcycles create terrific HDR images. Sometimes it's a matter of try and see. Some objects definitely work better than others.
Other hints and tips for making HDR photo's
Shoot well focused photographs to begin with. The higher the quality of the original photographs, the nicer the HDR turns out.
Use a camera aperture of f/8 or higher. Personally, I like an aperture of f/11 to ensure the whole landscape is in focus. I've found HDR doesn't look very nice on blurred images or any that contain Depth of Field.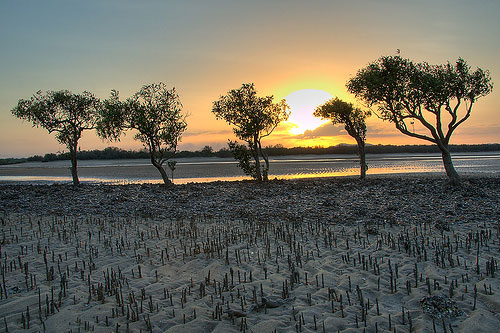 HDR Sunset Photograph
Digital SLR Camera: Canon EOS 400D / Rebel XTi
DSLR Lens: Canon EF-S 17-85mm f/4-5.6 IS USM
Exposure: 3 different exposures, due to the sunset HDR being composed from 3 separate images. They were then combined into one image using Photomatix software.
Aperture: f/11
Focal Length: 22 mm
ISO Speed: 100
HDR Beach Photograph
Digital SLR Camera: Canon EOS 400D / Rebel XTi
DSLR Lens: Canon EF-S 17-85mm f/4-5.6 IS USM
Exposure: 3 different exposures, due to the beach HDR being composed from 3 separate images. They were then combined into one HDR image using Photomatix software.
Aperture: f/11
Focal Length: 50 mm
ISO Speed: 100