If you don't have a DSLR macro lens to photograph insects and flowers with, then the next best alternative is a zoom lens. There are many advantages to using a zoom lens for macros and closeups including:
You don't need to be close to the subject. This is important for timid insects that may be frightened off easily.
If your shooting flower macros / closeups, a zoom lens will allow you to fully fill the frame.
Using the smallest aperture your zoom lens allows, for example f/5.6 or lower, will blur the background nicely, isolating the main subject. Give this one a try with your digital camera set on aperture priority (mode dial on A) to see the nice background effects you can achieve.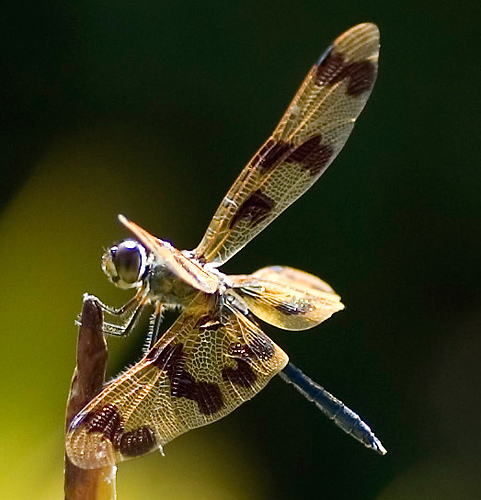 Zoom Lens Macro / Closeup 
Digital SLR Camera: Nikon D40
DSLR Lens: AF-S Nikkor 55-200mm 1:4-5.6 G ED
Exposure: 0.003 sec (1/400)
Aperture: f/4.2
Focal Length: 72 mm
ISO Speed: 200
Exposure Program: manual
How this macro was taken
This photograph of a dragonfly was taken with a Nikkor 55-200mm zoom lens. The aperture was kept to a low f number f/4.2, which resulted in a nicely blurred background. Thus leaving the main subject as the focal point of the image. Considering the zoom lens in this case wasn't fully zoomed out to it's fullest, the blured background effect is still seen.