If you don't have a dedicated macro lens to photograph insects and flowers with, then the next best alternative is a zoom lens macro. There are many advantages to using a zoom lens for macros and closeups including:
there is no need to be close to the subject. This is important for timid insects that may be frightened off easily.
When shooting flower zoom lens macro closeups, a zoom lens allows you to fully fill the frame.
Using the smallest aperture your zoom lens allows, for example f/5.6 or lower, blurs the background nicely, isolating the main subject.
Give this one a try with your digital camera set on aperture priority (mode dial on A) and see the nice background effects you will achieve.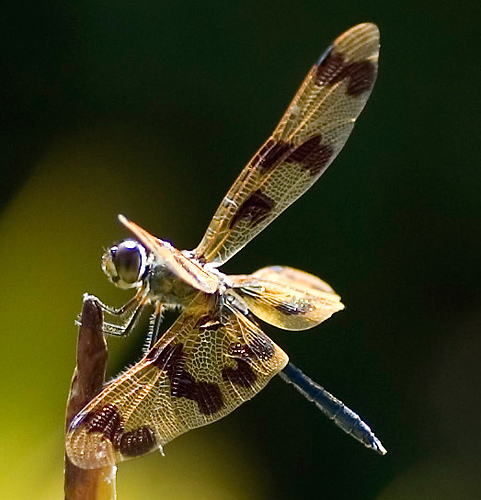 Digital SLR Camera: Nikon D40
DSLR Lens: AF-S Nikkor 55-200mm 1:4-5.6 G ED
Exposure: 0.003 sec (1/400)
Aperture: f/4.2
Focal Length: 72 mm
ISO Speed: 200
Exposure Program: manual
How this zoom lens macro was taken
This photograph of a dragonfly was taken with a Nikkor 55-200mm zoom lens. The aperture is kept to a low f number f/4.2, which results in a nicely blurred background. This leaves the main subject as the focal point of the image.
Even though the lens in this case isn't fully zoomed out to it's fullest, the blurred background effect is still achievable.
It is also easy to see the nice detail in the dragonfly that was captured. The fine hairs on the legs and body of the insect are plainly visible. So too the magnificent patterns of the dragonflies wings. What you probably miss not using a dedicated macro lens is the mesh type detail in the insects eyes. Because a macro lens is usually a 1:1 magnification, therefore greater detail is achieved.
Disadvantages: Zoom lens for closeups versus macro lens
First of all, the biggest disadvantage is the overall loss of fine detail.
Secondly, macro lenses usually allow for a smaller aperture number which in turn can result in faster shutter speeds. Therefore giving sharper images.
Finally, macro lenses are normally sharper than a zoom lens due to the magnification factor.
Online Photography Course
Sign-up for our online photography course and learn how to take better photos in easy to understand "at your own pace" lessons.
Click here for more information and sign-up details!