Everyone loves slow motion waterfall photography. A popular flickr search is slow motion water images, that look as though they are posters instead of digital photographs. A beginner photographer may also think the blurred water motion is a result of Photoshop effects. However as you'll soon discover, the slow motion blurring of the water is a result of digital SLR camera settings.
Digital SLR camera settings for slow motion waterfall photography
The secret to blurring water in photographs, as though they are in a slow dreamy motion, is to firstly set your digital camera on shutter priority.

For a blurred water effect your camera needs a slow / long shutter speed. This means your camera will take a longer time than normal to shoot the actual photo.
If you find yourself near a running creek or waterfall with your camera hand held and no tripod available, then a shutter speed of 0.25 sec (1/4) is slow enough to blur the water, yet still fast enough to minimize possible camera shake. Remember, it's the water you want blurred and not the surrounding landscape.
Personally I find I can hand hold my camera for up to 2 seconds without seeing bad effects from camera shake. The photograph shown below of slow running water was taken with a shutter speed of 2 seconds. I was standing quite close to the water with a hand held camera.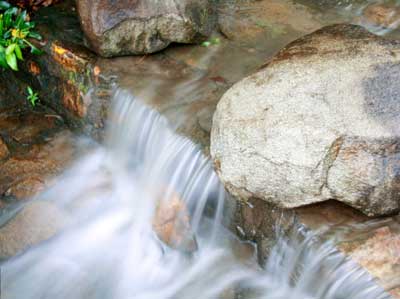 If your standing further away from the running water, you can afford a faster shutter speed resulting in the same blurred effects. Take this photo below for example. Again the digital camera was hand held, however this time the shutter speed was set at 0.25 sec (1/4).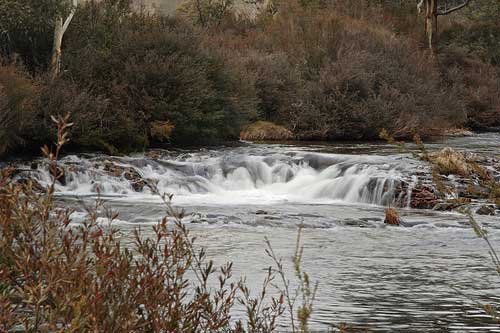 Both photographs above were taken with a Canon 400D (Rebel XTi) Digital SLR Camera.
Other photography tips for slow motion waterfall photography:
Use a tripod whenever possible to improve the sharpness of your photographs.
Slow motion water photography looks best when taken in shady landscape scenes instead of bright sunlight. Otherwise your water and surrounding rocks might look over exposed or too white.
The slower the shutter speed, the dreamier or more blurred the water will look. How dreamy you want the running water to appear in your photographs is a matter of personal preference.
Sign-up for our online photography course and learn how to master your digital camera in easy to understand "at your own pace" lessons.
Click here for more information and sign-up details!