Silhouette photography can look stunning. One of the very first photographs I took after purchasing a digital SLR camera was of a lonely tree on top of a sand dune. The time was around 5.30 in the afternoon and still quite sunny in my part of the world.
The first photo in particular turned out quite dark, so I changed the camera settings and tried again (and again). Fortunate for me, I wasn't in a habit of deleting bad images straight from the camera either. When I returned home and transfered the images to my computer, I realized I had accidentally taken a fantastic silhouette of a lonely tree that you see in the photograph below.
Silhouette photography example. The result of a good mistake.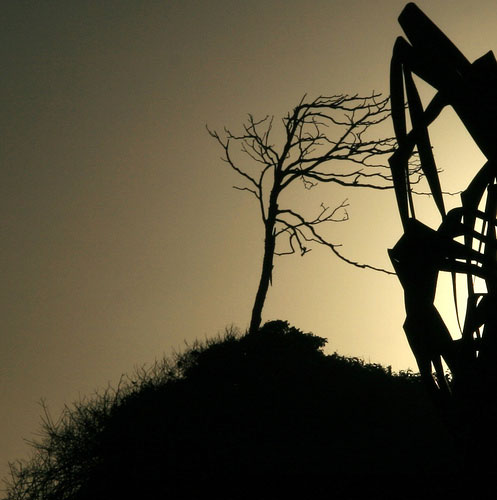 Lonely Tree Silhouette
Digital SLR Camera: Canon EOS 400D / Rebel XTi digital SLR DSLR
DSLR Lens: Canon EF-S 17-85mm f/4-5.6 IS USM
Exposure: 0.001 sec (1/1000)
Aperture: f/22
Focal Length: 66 mm
ISO Speed: 100
Exposure Bias: -2 EV
Why this example of silhouette photography works
Silhouette's always come across as being mysterious and moody. They hide the full story, making them interesting. The photograph is also uncluttered, so the lonely tree really stands out against the golden sky. The glow effect seen to the right of the tree was created by the sun being positioned on that side of the scenery.
Why this photo ended up a silhouette?
Looking back, I can now see why this photograph of a tree ended up a silhouette. The camera most likely set its exposure based on the background. Which in this case was a brightened sky, created by the sunset. Doing this resulted in the tree and foreground being very underexposed (black).
General tips for silhouette photography</>
Firstly set your digital camera to spot, partial or centre-weighted metering.
Turn off your flash. Make sure your automatic flash does not go off. To do this you will need your camera on a setting other than fully automatic. If your camera is on automatic, it's likely the flash will go off. The P mode (program AE) is good to start with.
Point camera metering towards a bright part of the sky (not the sun however) and take exposure reading by pressing your shutter button half way down.
Lock this exposure using your digital SLR cameras AE-L button.
Focus on the subject your photographing. For example, in this case it was the tree.
Now your ready to photograph a beautiful silhouette.
Sign-up for our online photography course and learn how to master your digital camera in easy to understand "at your own pace" lessons.
Click here for more information and sign-up details!