When you photograph water reflections, there are two important steps to consider.
Firstly set your exposure on part of the water that doesn't contain the actual reflection, yet is still close to some part of it. If your not sure what 'setting the exposure' means, you can find some information on this at: manual modes.
Next, set your digital SLR camera on a high aperture number (if photographing landscapes), for example f/11, so the whole landscape will be in focus. Then before taking the shot, focus your camera on the actual reflection and press the shutter button.
You should then find you end up with a perfect water reflection that seems almost mirror image.
Photograph water reflections example 1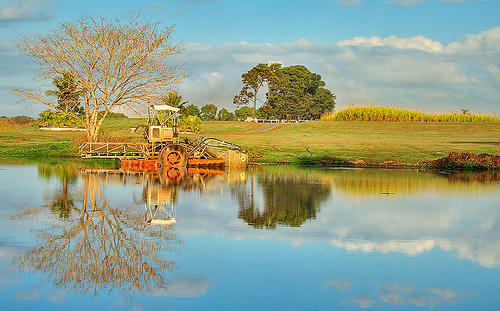 Digital SLR Camera: Canon EOS 400D / Rebel XTi
DSLR Lens: Canon EF-S 17-85mm f/4-5.6 IS USM
Exposure: 1/125th of a second
Aperture: f/11
Focal Length: 35 mm
ISO Speed: 100
Exposure Program: manual
Why this image worked
This photograph was taken at 7am on a cloudy day. The time of the morning, as well as the overcast conditions, made it a perfect situation for finding good water reflections at the local Botanical Gardens. I took the exposure on the water on the left, just under the green land reflection (the blue part of the water). I then focused on the reflection itself in the middle of the frame and took the photograph.
Due to an aperture of f/11, the whole landscape is seen in focus.
Reflection of seagull in the water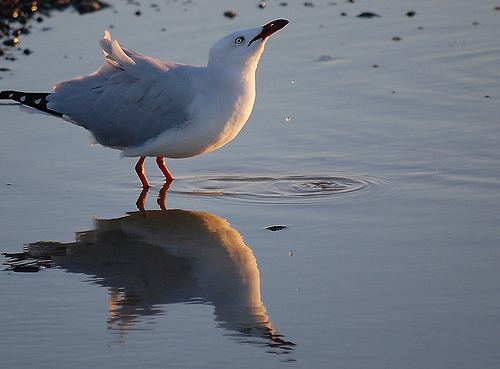 Digital SLR Camera: Nikon D40
DSLR Lens: Nikon 55 – 200 mm lens
Exposure: 0.002 sec, 1/500th of a second
Aperture: f/5.6
Focal Length: 200 mm
ISO Speed:450
Exposure Program: Program
Why this image worked
This photograph of a bird was taken in the late afternoon when reflections are at their second best time (second to mornings). It was also a shallow puddle that doesn't get the wind ripples that would occur in a larger body of water. Keep in mind, that after rain, there is always good reflections to be found in shallow puddles.
Note also, the aperture could be kept to a low number f/5.6 as it wasn't a whole landscape that was being photographed, but rather a much smaller object and area size.
Online Photography Course
Sign-up for our online photography course and learn how to take better photos in easy to understand "at your own pace" lessons.
Click here for more information and sign-up details!