So how do you photograph flying birds? There are generally two ways to photograph birds in motion.
Firstly, you can capture them as though they are instantly frozen, with every part of the bird focused.
The second way to photograph flying birds is to show motion in the flapping wing by slightly blurring any movement.
Which ever method a photographer uses is simply a matter of personal preference.
Camera Settings… Photograph Flying Birds
Below is the camera settings for capturing a well focused bird in flight compared to one that shows movement in the wings.
Set your DSLR camera to shutter priority. Why shutter priority? A flying bird is obviously moving, so the speed in which you take the photograph needs to be top priority.
To photograph a well focused bird, set one at a fast enough speed to capture it instantly, as if it's frozen in time. To do this you'll need a shutter speed faster than the bird or its wings (if you want them clearly focused) are moving.Unfortunately this can change from one shot to another, so there is no specific setting for this. If you photograph the same type of bird often, you will soon work out a sufficient speed. I recommend starting at 1/500th of a second and moving up or down from there.

Flying Seagull, photographed with a Canon digital SLR camera
Canon EOS 400D / Rebel XTi
DSLR Lens: Canon EF-S 17-85mm f/4-5.6 IS USM lens
Exposure: 0.002 sec (1/500)
Aperture: f/9
Focal Length: 85 mm
ISO Speed: 100
Exposure Program: Shutter Priority
Why this photograph of flying birds worked
The camera was set on shutter priority at a fast enough speed (1/500th of a second) to capture the image instantly. This speed also allowed me to hand hold the digital camera so I could more easily follow the birds flight path.
Now to give an example at the other end of the scale, taken with a slower shutter speed.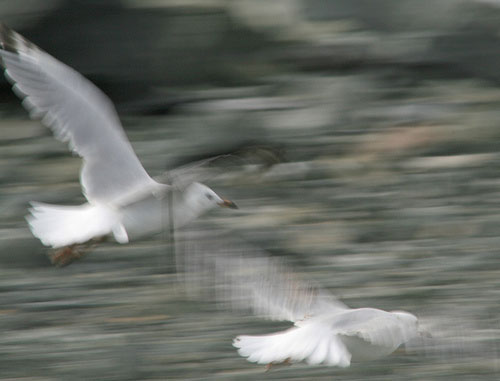 Showing motion – flying bird photography
Digital SLR Camera: Canon EOS 400D / Rebel XTi
DSLR Lens: Canon EF 90-300mm f/4.5-5.6
Exposure: 0.025 sec (1/40)
Aperture: f/25
Focal Length: 300 mm
ISO Speed: 200
Exposure Program: Shutter Priority
Why this photograph looks different to the one above it
The digital SLR camera in this case was set on shutter priority at a slower speed of 1/40th of a second. The first photograph was 1/500 second, which was way faster.
A speed slower than the animal is moving will display motion within the image. Therefore, with this in mind, if your bird photographs aren't as frozen looking as you'd like them to be, then increase the shutter speed on your DSLR camera.
Sign-up for our online photography course and learn how to master your digital camera in easy to understand "at your own pace" lessons.
Click here for more information and sign-up details!