The quick answer to this question is yes they do. It is actually the reasoning behind using aperture priority that, for most professional photographers, prompts them to use this mode at all.
Portrait and wedding photographers, in particular, choose to use aperture priority mode for the ease to control depth of field.
Most professionals are quick to size up the lighting at each venue where they are commissioned to shoot. They set the ISO to a level where the shutter speed will be quick enough for sharp images, no matter what the aperture they choose. This in turn leaves them the simple choice of changing the lens aperture quickly on the fly to suit the type of shot they wish to achieve.
For example
If you set an ISO of 600 in good light, it will give you a very fast shutter speed of around 1/3200 at a wide open aperture of F/2.8. And a very handy shutter speed of somewhere near 1/1000 at F/11. Both apertures will be used during a wedding or portrait shoot, and many other apertures in between. You can see by looking at those shutter speeds, good sharp images will result even while hand holding the camera.
The quicker the photographer can change settings the better it will be for both the client and the professional. Having just one setting to change, which is the aperture in this mode, the better the overall outcome for the shoot.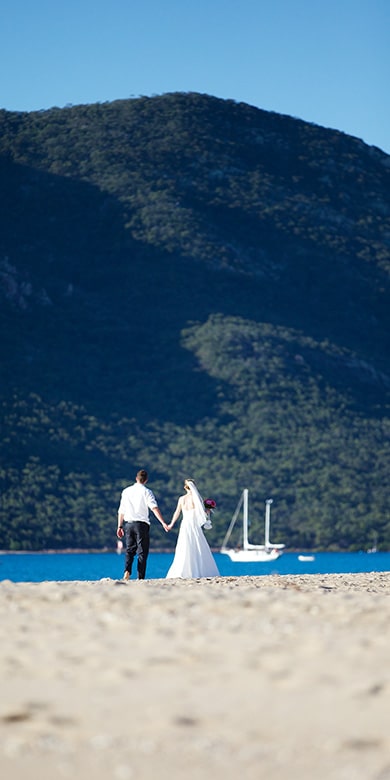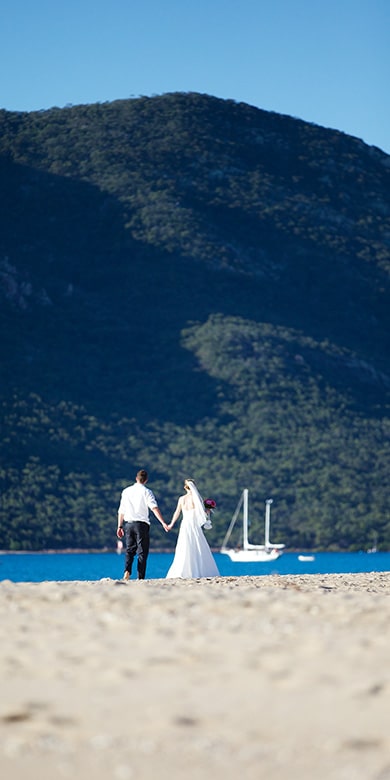 Canon 1DX EF70-200mm F/2.8 IS II USM
ISO 800 F/2.8 1/8000 @ 200mm Aperture Priority
In the example above
I wanted to show blur in the foreground yet retain the magnificence and scale of the area. The groom particularly asked for this type of shot as, being from Germany, he hadn't before seen the rainforest meet the sea.
In aperture priority mode, you literally let your finger do the talking as you easily roll the main dial between aperture F-stops to suit the depth of field you want to achieve. For large groups use a large F number to have everyone in focus. For face shots, a small F number, if you as the artist want the eyes sharp while the rest of the face is soft.
If you have a look at a top end, or professional model camera, you won't see buttons for sports mode or program mode (P) on the dials. Nor is there a popup flash, as professional photographers just won't use those gadgets. Yet there certainly is a setting for aperture priority, as well as shutter priority, as the pro's definitely use those particular settings often.
We use aperture priority ourselves quite regularly. Not only for weddings and portrait shoots, also for other various types of photography, such as arial photography, macro photography and even when shooting with our DSLR camera underwater.
So let's quickly recap:
Top end cameras (professional models) do incorporate aperture priority mode
Aperture priority allows the photographer to quickly control depth of field
Aperture priority mode is preferred by many wedding and portrait photographers
Let your finger do the talking, quickly changing f-stops on the fly
We personally know award winning professional photographers who always shoot in aperture priority, no matter what genre of photography they are currently shooting, be it portrait or landscape. Their thinking behind this is that they can quickly change the ISO to suit the lighting and then have only the aperture setting to think about whilst on a shoot.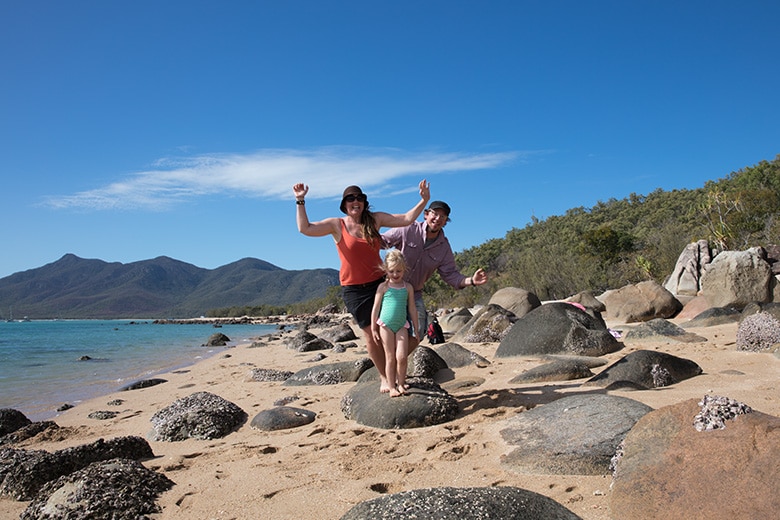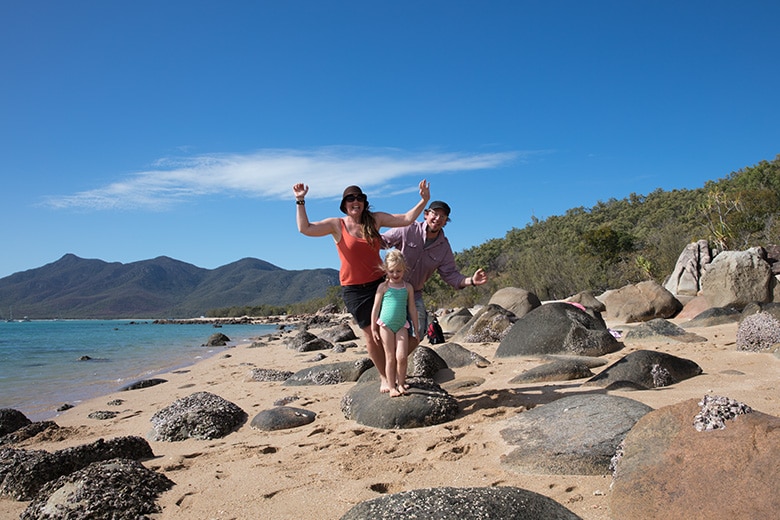 Canon 5DSR EF24-70mm F/2.8L II USM
ISO 200 F/9 1/640 @ 24mm Aperture Priority
The image above
This family from Victoria loved the remote beach we showed them. I shot this fun pic with an aperture of F/9 to ensure I had them all in good focus and they could also remember the beautiful natural environment they visited.
Sign-up for our online photography course and learn how to master your digital camera in easy to understand "at your own pace" lessons.
Click here for more information and sign-up details