Sometimes photographing only part of an object or scenery makes for a more interesting composition. When photographing objects or buildings, it can be more interesting to shoot only part of it. Or in other words, shooting in pieces can be stronger than the whole.
Often photographing the whole scene can make a photograph so busy, that the viewer doesn't experience the grandeur of what you're trying to convey. Don't get me wrong, I'm a huge fan of wide angle lenses that capture as much as possible in one photo. However, in some circumstances, a wide angle shot won't capture small details. And sometimes, it's the small details that caught your eye in the first place.
Composing your photographs in this way will enable the viewer to fill in the rest with their imagination, thus making the photographer a storyteller.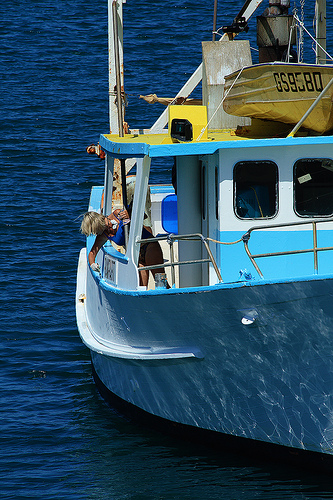 Fishing Boat 
Digital SLR Camera: Canon EOS 400D / Rebel XTi
DSLR Lens: Canon EF 70-300mm f/4-5.6 IS USM
Exposure: 0.004 sec (1/250)
Aperture: f/11
Focal Length: 300 mm
ISO Speed: 100
Exposure Program: manual
Why this image worked
Photographing only half of the boat uncluttered the whole image. This helped to bring attention to the water reflections on the front side of the boat, which may have otherwise not been noticed.