Photography Cheat Sheets
Need help to remember camera settings when out in the field? Our famous photography cheat sheets / reference cards are now available to purchase separate to our Photography Course. 42 printable cheat sheets, 2.5 x 4 inch size that you can take with you anywhere. Note, these cheat sheets are double sided, in that there are reference settings and tips on both sides. Also included is a mobile version for those who'd rather store them on their smartphone or tablet.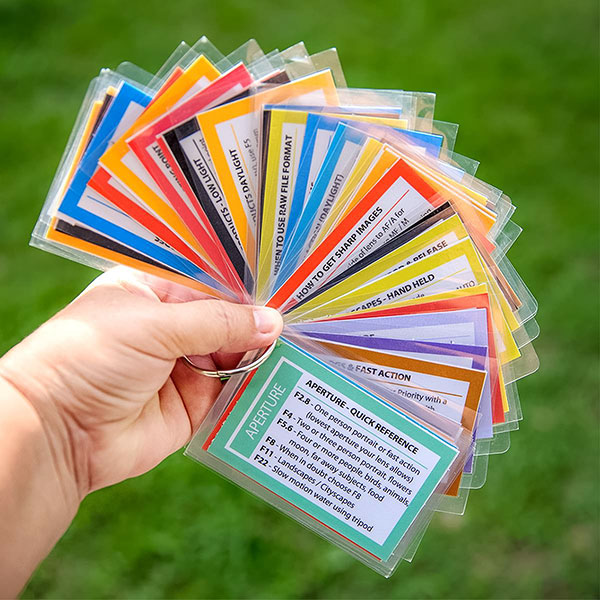 SOME TOPICS COVERED INCLUDE:
Color coded into numerous subject areas so your favorites are easy to locate. These photography cheet sheets / reference cards are more than general camera settings. They are very specific by genre & subject.
How To Capture Sharp Images
Aperture Quick Reference
ISO Quick Reference
Shutter Speed Quick Reference
Manual Mode
General Quick Tips
Sunrises & Sunsets
A Subject In Front Of A Sunrise Or Sunset
Waterfalls & Streams
Foreground Blur
Background Blur
Portraits In daylight
Portraits In low light
Kids In Action
Handheld Landscapes
Landscapes Low Light
Everyday Walkaround Settings
How To Photograph Lightning
Creating Beautiful Bokeh
Buildings / Real Estate
Bulb Mode
Shooting Into The Sun
Natural Light
White Balance Settings
Kelvin White Balance
Metering Modes
Christmas Lights
Dogs & Fast Action
DOF Depth Of Field
Exposure Compensation
Family Groups
Fireworks
Food & Other Products In Low Light
Food & Other Producs in Day Light
Understanding Histograms
How To Photograph The Moon
Nightscapes
Stars & Miky Way
When To Use RAW File Format vs JPEG
Airshows and Planes In Flight
Zoo Photography
Pop your cheat sheets into your camera bag or store them on your phone or tablet, and you're ready to go!