Digital SLR photography magazines for amateurs to intermediate photographers
Subcribing annually to a few good digital photography magazines can really help you get off to a quick start if your new to digital SLR cameras. One of the most useful aspects of these magazines are that they often display other photographers work, along with an explaination of how the image was achieved.

Here are a few good digital photography magazines I subscribe to myself and found were really useful when first starting to use SLR digital cameras.
1. Digital Camera - The magazine for todays photographer.
This is my personal favorite that I can't go one month without buying. The UK magazine is packed full of DSLR photography skills and equipment comparisons. For example September months issue offers seventeen pages of macro photo tecniques. It also shows you how to process RAW files and has a free CD with every issue showing you how to use Photoshop to improve your digital photographs.
At first look, Better Photography magazine looks thinner than the rest. Then as you start browsing through the pages you realise every one of them offers a useful article. In other words, this photography magazine may appear thinner that the others, however there is very little advertising throughout. If you follow the link above through to their website you can read sample articles including: shutter speed rules, landscape, travel, field photography and how small digital files can be turned into quality big prints.
3. Outdoor Photographer
If you enjoy photographing the great outdoors then this is the magazine for you. It offers useful tips on photographing sceneries, mountains, sunsets, lakes and wildlife etc. I recommend this photography magazine for amateur enthusiast after how to articles. There are also pages dedicated to lighting, exposure, filters and gear to keep you up to date on the latest equipment.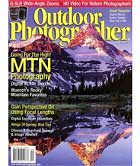 New iPhone App that will improve your DSLR Photography.
Created by SLR Photography Guide!

Dedicated to helping you better understand your Digital SLR Camera:
Download it on iTunes