What digital SLR camera lens do you need for bird photography?
This may be hard to swallow but the fact is, taking photographs of small wild animals such as birds for example, usually require an expensive camera lens. This was a mistake I did myself when I first started in digital SLR photography. One of the first lens I purchased was a 100-300mm telephoto zoom, thinking it would be great to photograph wild birds in their natural habitat. Wrong!
What is a 100-300mm telephoto zoom lens good for?
A normal telephoto lens will let you take nice photographs of tame birds that are in close proximity to your camera setup.
For example I recently took a wonderful photograph of an Australian Kookaburra that was sitting on my backyard clothes line. The main point being, the Kookaburra was only about 3 meters away. I then walked down to my local botanical gardens to try and photograph some ducks further away on the other side of the pond and found I couldn't zoom in far enough to capture them clearly. Another time I noticed some hawks flying overhead and found they also were too far away to be photographed well enough.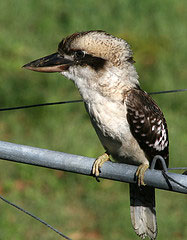 Australian Kookaburra
Digital SLR Camera: Canon EOS 400D/Rebel XTi
DSLR Lens: Canon EF 90-300mm f/4.5-5.6
Exposure: 0.002 sec (1/500)
Aperture: f/10
Focal Length: 300 mm
ISO Speed: 250
Why this photo works
The aperture (also referred to as depth of field) has blurred the background while at the same time keeping the bird in full focus.
What DSLR lens do wildlife and bird photographers use?
Professional bird photographers use 500mm and 600mm lenses. These are expensive and really large heavy camera lenses. For example the Canon EF 500mm super telephoto lens is currently selling for $5,551.95.
What other options are available for bird photography that isn't so expensive?
You might want to consider purchasing the best quality 400mm telephoto zoom lens you can afford, then add a teleconverter (sometimes known as extenders) to your setup. A teleconverter is a tube that extends the focal length of your lens. For example if you placed a 1.4x teleconverter onto your camera with a 400mm telephoto lens, then it would create similar effects to using a 560mm lens.
What disadvantages are there when using teleconverters?
There are disadvantages to using teleconverters / extenders. Otherwise professional bird photographers would use them instead of buying expensive 600mm lenses.
1. Image quality isn't as sharp as it would be normally. This is especially true if you buy a cheap teleconverter. If you decide to go this way then I recommend purchasing a teleconverter specifically made for your camera brand for compatibility reasons. They cost a couple of hundred dollars extra, yet will give better quality than a no brand name.
2. Adding a teleconverter extender to a slow lens especially, may cause you to loose automatic focus. For obvious reasons this may be problematic for photographers who want to focus quickly on a moving bird. When photographing wildlife, you don't always have time to focus manually.
Comparison scenario for lens requirements needed for bird photography
Scenario 1: Purchase a high quality Canon EF 500mm super telephoto lens that is currently selling for $5,551.95.
Scenario 2: If you own a Canon SLR digital camera, then you can purchase a high quality Canon EF 400mm f/5.6L USM Super Telephoto Lens and couple it with a Canon EF 1.4X II Telephoto Extender for $1378.95.
Or, you can be happy using a much cheaper 100-300mm telephoto zoom lens and photograph closer birds like the photograph below.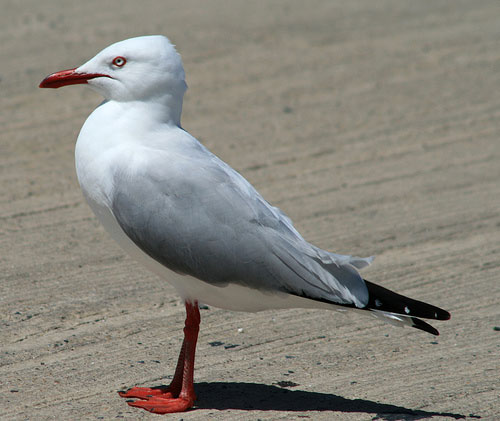 Seagull
Digital SLR Camera: Canon EOS 400D / Rebel XTi
DSLR Lens: Canon EF 90-300mm f/4.5-5.6 III USM Telephoto Zoom Lens
Exposure: 0.002 sec (1/640)
Aperture: f/9
Focal Length: 300 mm
ISO Speed: 100
Why this image works
Full use of the telephoto lens zoom feature was utilized to fully fill the frame of the photograph with the subject. Being an outside shot, the ISO was kept to 100 to ensure the best quality possible.